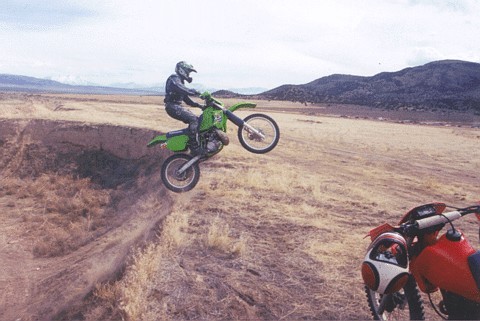 Welcome To My Dirt Bike Web Page!
My name is Jim and this is my web page dedicated to Dirt Bikes. I currently live in Provo, UT where the riding is great. I'm 18 years old and have been riding for seven years. I like to race off-road races (Grand Prix, Hare Scrambles, Enduro, etc...)and I love to go on good old trail rides. If you ever want to hook up for a ride, just email me and we can work something out.
Upcoming Events
I like to keep a current list of my favorite races or other events in the Utah area. Some upcoming events that I would recomend going to if you can make it are:

March 16-17 2002 WORCS race in Price, UT.
April 13, 2002 Sage Riders Spring Race.
Bikes I've owned in the past:
1979 Honda XR 80
1984 Kawasaki KDX 250
1989 Kawasaki KDX 200
1996 Kawasaki KDX 200
1986 Yamaha YZ 250
1985 Yamaha YZ 250
1986 Kawasaki Eliminator ZL900 (Road Bike)
2001 Suzuki DR-Z400
Updates On My 2001 DR-Z400
List of Mods:

*01 RM front fender
*Air Box Lid removed
*End Cap Mods
*Cycra Black Race Kit Plastic


Jetting:
Main: 160
Pilot: 45
Fuel Screw: 2 1/4 turns out
Needle: OBDXP with one notch below stock

2002 AMA National Hare & Hound Series
January 27......Lucerne Valley, CA
March 23......Murphy, ID
April 13......Delta, UT
May 11......Jericho, UT
June 15......Jackpot, NV
September 15......Hagerman, UT
October 13......Lucerne Valley, CA
October 27......Lucerne Valley, CA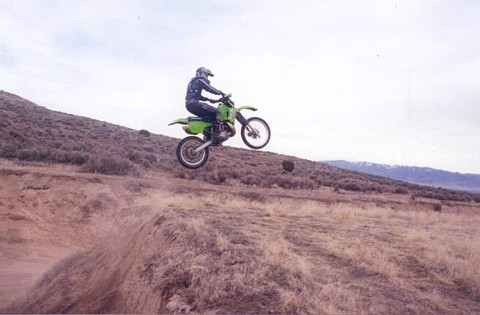 Why aren't you out riding?
Local Weather in Provo, UT